Carmen Suite 3 for Band
by Georges Bizet
Transcribed and arranged for Band by Hal Peterson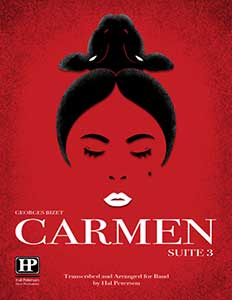 Instrumentation: Full Score, Flute 1 doubling Piccolo (3), Flute 2 doubling Piccolo (3), Oboe 1, Oboe 2, Eb Clarinet, Bb Clarinet 1 (3), Bb Clarinet 2 (3), Bb Clarinet 3 (3), Alto Clarinet, Bass Clarinet (2), Alto Saxophone 1 (2), Alto Saxophone 2 (2), Tenor Saxophone (2), Baritone Saxophone, Bassoon 1, Bassoon 2, Horn 1 in F, Horn 2 in F, Horn 3 in F, Horn 4 in F, Bb Trumpet 1 (3), Bb Trumpet 2 (3), Bb Trumpet 3 (3), Trombone 1 (2), Trombone 2 (2), Bass Trombone (2), Baritone T.C., Euphonium (2), Tuba (4), String Bass, Timpani, Percussion - 4 players (Tambourine, Snare Drum, Bass Drum, Crash Cymbals, Triangle) (4), Mallet Percussion (Glockenspiel and Marimba). The performance set includes additonal copies of some parts which is shown in parentheses.
Duration: 22 and 1/2 minutes.
Suggested Programming Formats: Major selection for a concert performance. One or more movements for use at a band festival.
Description: Carmen Suite 3 is a modern compilation of music from within the four acts of Carmen. The suite contains four movements, one from each act:
1. Soldier's Entrance, March, and Streetboys Chorus
2. Gypsy Song
3. Micaela's Aria
4. March and Chorus
Program Notes: Georges Bizet was a fabulous writer for winds, and his greatest work, the opera Carmen, is filled with superb examples of this. Carmen is also a work with great crowd scenes energized by stirring large ensemble writing, marches and choruses, yet much of this work has never been available for wind bands. The traditional Carmen suites mainly consist of the preludes to each of the four acts, but never access much of the great music contained within each act.
Carmen Suite 3 remedies that gap by using four excerpts, one from each act, that bring this great literature to your wind band. The first movement uses the opening "Soldier's Entrance", "March", and "Streetboy's Chorus" from Act 1. Horns, trombones, and baritone represent the soldiers while trumpets are the street boys. Nothing epitomizes a French march like the passages for two solo piccolos and trumpet.
Movement 2 is the "Gypsy Song" from Act 2 filled with stunning woodwind solos, starting with the famous flute duet, building to woodwind and tambourine flourishes, and ending with the entire band pounding out the presto finale. Solo and first trumpets take on the role of Carmen and her seductive gypsy cohorts. Marimba and string bass have key accompaniment roles.
Your horn section will delight in having the opportunity to perform "Micaela's Aria" from Act 3, full of great sounding horn quartet passages. Solo alto saxophone and oboe take turns playing the lush melody when it is reflective and daunting, while trumpets and trombones lead the dramatic fanfare-like opening phrases of the interlude.
Carmen Suite 3 finishes with the "March and Chorus" from Act 4, similar to the original overture, but also containing the chorus parts, which are played by trumpets and trombones. Unlike the overture, there is a lot more development of the main melody, and there are several interludes, including the "Toreador's Song" which is played just prior to the grand finish.
Full instrumentation and quality principal players are key to the successful performance of this work, designed for the mature sounding band. (Grade 5-6)
About the arranger.
About the Edition. The full score for Carmen Suite 3 is published in a spiral bound edition. The instrumental parts are paper booklets.
Ordering Information:
Order the conductor's full score. (sold separately from the part set)

Order the complete performance set of parts.

Order the score and parts together. If the standard performance set does not meet the numbers of your ensemble, you may order extra parts in addition to the performance standard set. Individual part prices for Carmen Suite 3 range in price from $2.00 to $5.00.
Email customerservice@halpeterson.com to get a price quote and ordering information.