The Twelve Gifts of Christmas
for SATB Choir, Jazz Choir, Soloists, and Orchestra
Music by Hal Peterson
Lyrics by Susan Erlendson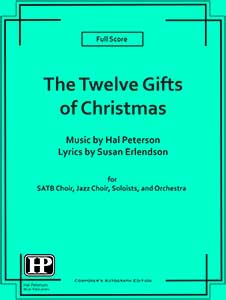 Instrumentation: Note about Woodwind Parts: This work was scored for five doubling reed players, 2 Flutes doubling Alto Saxophone, 2 Bb Clarinets doubling Tenor Saxophone, and Bass Clarinet doubling Baritone Saxophone, plus Piccolo, Oboe and Bassoon. The Bass Clarinet part is a double of the Bassoon part. Only one is necessary in performance. If you don't have doubling players in your group, individual parts are available for Flute 1, Flute 2, Piccolo, Oboe, Bb Clarinet 1, Bb Clarinet 2, Alto Saxophone 1, Alto Saxophone 2, Tenor Saxophone 1, Tenor Saxophone 2, Baritone Saxophone, and Bassoon. The rest of the ensemble: 4 Horns in F, 4 Trumpets in Bb, 2 Trombones, Bass Trombone, Tuba, Timpani, Percussion: 1 player (Crash Cymbals, Glockenspiel, Sleigh Bells, Xylophone, Tambourine), Drum Set, SATB Choir, Jazz Choir (SATB small group), Soprano, Alto, Tenor, Bass and Rap soloists, Piano, Synthesizer, Electric Guitar, Harp, Violin 1 (6), Violin 2 (5), Viola (4), Violoncello (3), Double Bass, Electric Bass.
Description: The Twelve Gifts of Christmas takes a contemporary look at how the gifts of the traditional carol "The Twelve Days of Christmas" might be chosen in today's California. The piece first focuses on the Christmas Tree itself, with its bright shiny lights and ornaments, and how it is an important symbol of the season and its accompanying gift giving. Then it transitions into the twelve gifts, each with its own musical style and soloists. After the gifts are introduced, a brief coda with commentary on the meaning of the tree returns us to The Evergreen Finale. The work was composed and first performed in 1985, and has been updated periodically as our popular culture changes.
Sections of the Piece: The Evergreen Introduction, Christmas Wonderland, Choir "True delight", "Oh Evergreen" Chorus, Transition 1 to the gifts, One Cycler Cycling, Transition 2, Two Palm Trees Swaying, Three Surfers Surfing, Four Chargers Charging, Five Stars a Shining, Six Mission Bells Ringing with Vocal Solo 1, Bell Interlude, Vocal Solo 2 and Choir Noels, Seven Joggers Jogging, Eight Skateboarders Skating, Nine Skiers Skiing, Horns/Orchestra Fanfares, Ten Computers Computing, Instrumental Interlude, Eleven PlayStations Gaming, Twelve Rappers Rapping with rap solo, Coda: Soprano and Tenor Duet and The Evergreen Finale .
About the Editions. The full score, piano-vocal score, and choral parts are published in spiral bound editions. Instrumental parts are paper.
Ordering Information: