Fantasia Tarantella
for Orchestra
or the
Two Piano Edition
Hal Peterson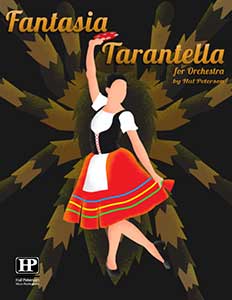 Instrumentation: 3 Flutes (3. doubles Piccolo and Alto Flute), 3 Oboes, 2 Bb Clarinets, Bass Clarinet, 2 Bassoons, Contrabassoon, 4 Horns in F, 3 Bb Trumpets, 2 Tenor Trombones, Bass Trombone, Tuba, Timpani, 4 Percussion (1. Drum Set and Crash Cymbals, 2. Snare Drum, Vibraphone, and D Chime, 3. Glockenspiel, 4. Bass Drum and Triangle), Piano, and Strings.
Description: Fantasia Tarantella is reminiscent of nineteenth century tarantelli written by Liszt, Chopin, Heller, and other composers which utilize a "virtuoso" perpetual motion style.The outer structure of Fantasia Tarantella loosely follows a sonata-allegro form with a distinctive three part exposition, development, recapitulation, and coda. However, the work is diverted away from the tarantella format by two episodes introduced by violas, cellos, or string basses that explore American jazz styles. Each episode is related in a harmonic or rhythmic manner to the tarantella material, and the piece moves freely and easily between the styles, hence the name "Fantasia".
History: Fantasia Tarantella for Orchestra was completed by composer Hal Peterson in July of 1992. The work is derived from the last movement of an earlier work for string bass and piano entitled The Charismatic Bassist. Fantasia Tarantella also exists in a two piano version, which was finished by the composer in December of 1991.
About the composer.
About the Editions. The full score is published in a spiral bound edition. Instrumental parts are paper. The two piano score is published in a spiral bound edition, and sold in sets of two.
Ordering Information: